Throughout the highs and lows of each season, it can sometimes be difficult to be a Middlesbrough fan for a full 90 minutes let alone over 90 years! But, Olive, a dedicated Boro fan, achieved just that in her impressive 104 years.
Every week the MFC Foundation Memory Box tour visits a care home within the Teesside area. On one of their visits they were introduced to Olive who they believed was the oldest Boro fan around. She was 103 when they met her, her birthday was in between Christmas and New year and they asked pupils of St. Augustine's Primary School to make her 104 cards which they would deliver, along with a Boro shirt with her name on.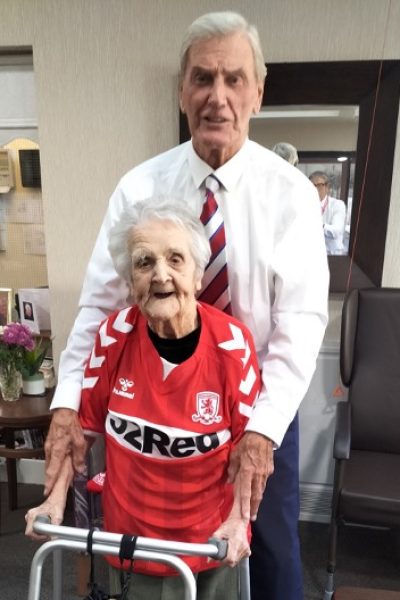 Sadly, Olive passed away not long after midnight on her 104th birthday. She left behind a loving family, who all too carried a passion for Middlesbrough Football Club.
Loving your childhood team has no age limit, and Gary Wood, Chief Operations Officer at SDDE Smith Group and Managing Director at WOODSmith Construction Group, knows just that.
Inspired by her story Gary invited Olive's family to his table in the Styled Suite for a full all-expenses matchday experience at the Millwall game. The Middlesbrough team also added to the occasion with a 1 – 0 win over Millwall, that one was for Olive!
Gary was photographed, together with Head of MFC Foundation Lynsey Edwards, with Olive's proud family at the game.
The SDDE Smith Group and WOODSmith are partners of Middlesbrough Football Club and patrons of the MFC Foundation.
Want to work with WOODSmith? No matter the size or scope of your project, they can work with you to take it from concept to reality. Get in touch on 01287 221461 or visit www.woodsmithgroup.com to find out more.